Shared-use fleet operators can now accessorize GEM to experience the benefits of IoT with next-gen fleet management platform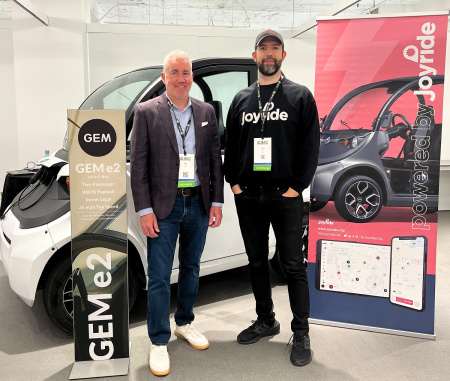 Anaheim, Calif. and Toronto, CA, October 19, 2023 – GEM, the leader in street-legal low-speed vehicles (LSVs), partners with Joyride, the world's leading micromobility software platform, to deploy IoT-connected LSVs for shared use. The Joyride platform, which powers micromobility businesses worldwide, makes it seamless for operators to build and maintain a shared-use GEM fleet efficiently and profitably – while providing an exceptional rider experience to end customers. This turnkey approach allows shared mobility businesses to be up and operating within days with connected, keyless, shareable and trackable vehicles.
McKinsey & Company forecasts shared mobility could generate up to $1 trillion in consumer spending by 2030. The popularity of shared-use mini and micromobility, which accounts for roughly 10% of shared mobility, is soaring in urban, suburban and coastal communities as convenient and sustainable transportation options. In fact, 43% of U.S. consumers would consider using minimobility, meaning this could become a $100 billion industry by 2030, according to McKinsey.
"Teaming up with Joyride will make four-wheeled, street-legal GEM LSVs IoT-connected for the first time," said Paul Vitrano, Senior VP & Chief Legal and Policy Officer, Waev Inc. "Having GEM vehicles networked this way will make it painless and profitable to start or maintain a shared-use deployment capable of being controlled and managed by mobile devices."
"With their compact footprint and low-speed travel, LSVs are efficient, sustainable and fun – while capable of transforming urban mobility and shared-use applications," said Vince Cifani, Founder and CEO, Joyride. "Partnering with Waev on their GEM products furthers our global mission by providing shared mobility operators with a new option – and increased vehicle capabilities – in sustainable travel."
Joyride-Powered GEM Platform Features
The GEM and Joyride partnership provides operators with a tech platform that does all the heavy lifting, complete with a branded app, backend management tools, IoT connectivity and hardware integration. The Joyride platform for GEM includes more than 15 application modules, which include:
Fleet management — manage your operations from anywhere and watch your fleet and revenue move with up-to-the-minute monitoring.
Geofencing — plot customized zones where your vehicles can be driven.
Fleet analytics — receive real-time data on fleet location, productivity, health, charging and maintenance.
Payment gateway — pre-authorization payment tools safeguard operators and allow them to accept direct payment in multiple payment methods.
ID verification — speedy and secure real-time driver's license verification to riders.
Sobriety test — gamification DUI tool optional for provisioning driver and community safety.
Branding opportunities — the Joyride app comes white-labeled. Customize your app name, colors, icons and more.
Operator tools — communicate directly with multiple field operations team members and scan vehicles at once from a streamlined Operations App.
Marketing — offer referral program sign-ups, promotional tie-ins, in-app advertising and instant messaging that engage riders and incentivize further use.
Customer service — enable issue tickets to be reported and addressed instantly in-app with global 24/7 support.
The Joyride integration is available as an aftermarket accessory offered by Joyride for GEM vehicles. The kits can be easily installed by fleet operators. Joyride-enabled GEM vehicles are also on display digitally through Joyride Garage, an online marketplace that sells shared-use vehicles with fully integrated solutions.
Joyride-powered GEM vehicles will be available for demonstrations and test rides at Micromobility America October 19-20, in the San Francisco Bay Area in California.
Editor Note: For high-resolution images, please visit bit.ly/WaevIncMediaKit or contact Katie Paulson, katie@kp-publicrelations.com.
About Joyride
Joyride is the world's first and fastest micromobility software platform. Founded in 2014, Joyride currently powers shared mobility operators in 200+ global markets through a customized consumer-facing app, field operations apps, backend fleet management software, hardware-agnostic IoT integrations, long-term rentals, payment gateway, expert-led online Academy, vehicle purchasing/financing and 24/7 customer support. As a purpose-driven market leader, Joyride is on a fast-paced mission to bring sustainable, electrified and innovative tech solutions to all parts of the mobility industry—and all parts of the globe. Join us at joyride.city and on LinkedIn.
About Waev Inc.
Waev Inc. provides access to safe and dependable electric vehicles through the manufacturing, distribution and support of the GEM, Taylor-Dunn and Tiger product lines. Founded in 2021, Waev is redefining EVs to make life and work easier, more efficient and more enjoyable. This is driven by our commitment to sustainable, safe, future-focused solutions that lead to the adoption and advancement of electrification without compromising the job or purpose of the vehicle. Our collaborative and agile partnerships stem from these shared values and common pursuit to advance mobility.
GEM has been an established EV leader in the LSV space for 25 years. Taylor-Dunn has a rich 70-year legacy of providing tailored industrial vehicles. Tiger heavy-duty tow tractors have been towing cargo, baggage, parcel, and other equipment for ground support applications since 1981. All vehicles are engineered and produced at the Waev headquarters and manufacturing center of excellence in Southern California. Visit us at waevinc.com and follow us on LinkedIn.