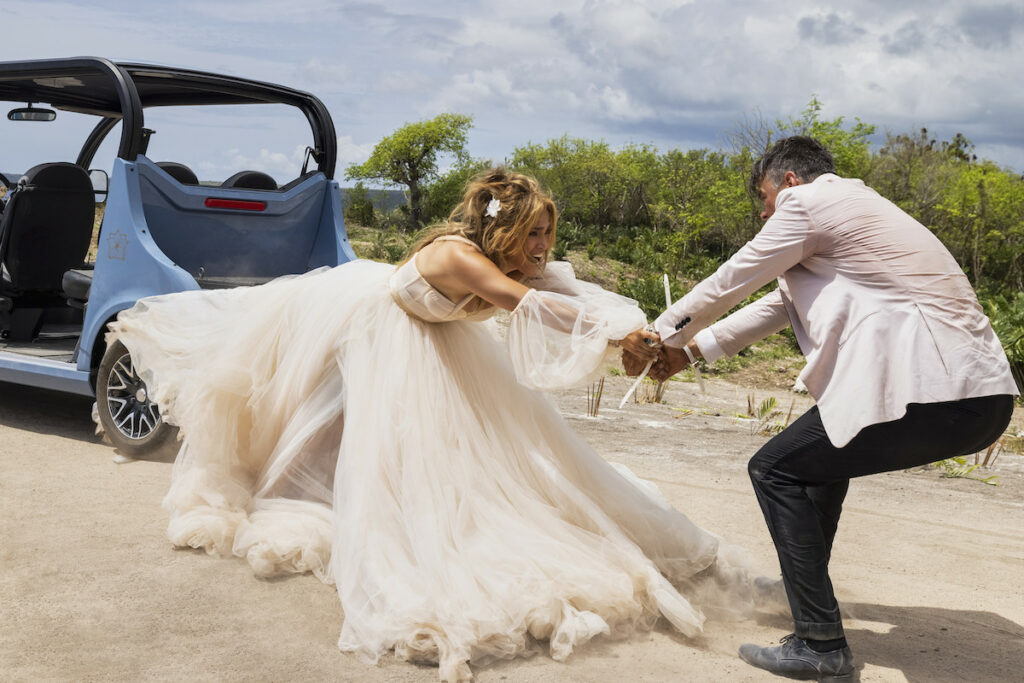 Electric mobility leader teamed up with Prime Video to showcase its luxe resort transportation in new film, Shotgun Wedding.
A destination wedding that goes awry, a group of pirates and an island-friendly ride – GEM is featured in a new action rom-com starring Jennifer Lopez and Josh Duhamel. In a new collaboration with Prime Video, Waev Inc., the manufacturer of GEM low-speed electric vehicles, offers wedding transportation and an adventure of a lifetime in Shotgun Wedding available for streaming on January 27. GEM will also make a Red Carpet appearance at the film's LA premiere on January 18.
"For more than two decades, GEM has been a leader in the low-speed EV class. We're thrilled to team up with technology trailblazer Prime Video as we showcase our premium GEM EVs on the streaming service," said Keith Simon, CEO of Waev. Inc. "GEM provides an unforgettable ride, whether it's transporting guests across a resort or quietly mobilizing grounds crews and housekeeping staff – all with zero CO2 emissions."
Featured in two scenes in Shotgun Wedding, four GEM e4s were used throughout filming as the resort's primary method of luxury, eco-friendly transportation for event guests and the wedding party. With models that seat up to six, a maximum speed of 25 mph and an open-air deign, GEM vehicles are designed for comfort, style and fun without sacrificing safety or quality. With additional premium features available, such as a panoramic sky roof and 16-in sport wheels, GEM vehicles offer a vacation-ready fleet that meet sustainability goals and provide drivers and passengers an enjoyable ride. Or as Lopez and Duhamel experienced – the adventure of a lifetime.
To learn more about GEM vehicles and see the full GEM product lineup, visit www.gemcar.com. For high-resolution images, please visit bit.ly/WaevIncMediaKit or contact Katie Paulson, katie@kp-publicrelations.com.
About Shotgun Wedding
Directed by Jason Moore and written by Mark Hammer, Shotgun Wedding is a romantic action comedy that highlights everything that could possibly go wrong on your wedding day – including cold feet and a hijacking. After bringing their families together for an extravagant destination wedding, Darcy (Lopez) and Tom (Duhamel) must change their focus from wedding to rescue when the entire party is taken hostage. Available for streaming exclusively on Prime Video, Shotgun Wedding airs on January 27, 2023. The official movie trailer can be found here: https://www.youtube.com/watch?v=qNVwRHQL8jw&t=1s.
About Waev Inc.
Waev Inc. provides access to safe and dependable electric vehicles through the manufacturing, distribution and support of the GEM, Taylor-Dunn and Tiger product lines. Founded in 2021, Waev is redefining EVs to make life and work easier, more efficient and more enjoyable. This is driven by our commitment to sustainable, safe, future-focused solutions that lead to the adoption and advancement of electrification without compromising the job or purpose of the vehicle. Our collaborative and agile partnerships stem from these shared values and common pursuit to advance mobility.
GEM has been an established EV leader in the LSV space for more than 20 years. Taylor-Dunn has a rich 70-year legacy of providing tailored industrial vehicles. Tiger heavy-duty tow tractors have been towing cargo, baggage, parcel, and other equipment for ground support applications since 1981. All vehicles are engineered and produced at the Waev headquarters and manufacturing center of excellence in Southern California. Visit us at waevinc.com and follow us on LinkedIn.