Street-legal GEM low-speed vehicles are available at CraneWorks dealerships in Birmingham and Mobile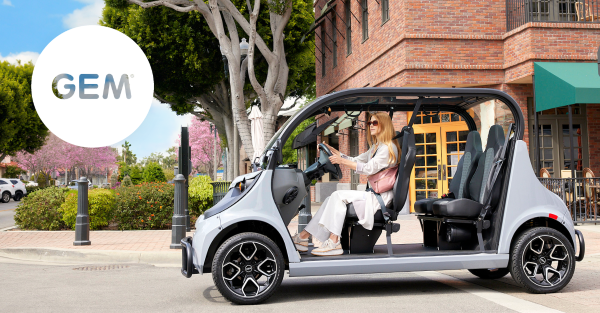 Birmingham AL., Nov. 16, 2023 – Electric vehicle manufacturer Waev Inc. today announced Alabama-based CraneWorks as its latest authorized GEM dealer. Demand for electric low-speed vehicles (LSVs) is on the rise, aided by nearly $80 million recently allocated by the state of Alabama for the construction of EV infrastructure over the next five years. With locations in Birmingham and Mobile, CraneWorks will help meet this growing demand in Alabama's north central and southern coast. Local businesses and individuals will have the opportunity to learn more about LSVs and experience GEM vehicles through test drives in addition to receiving support from the dedicated dealership staff.
"GEM is a safe, smart and enjoyable way to move around cities, campuses and communities," said Luke Mulvaney, SVP and Co-Founder at Waev Inc. "We have a strong partner in CraneWorks to offer a great experience in the region to those interested in an EV for their job or their personal lives."
Designed for style and comfort, GEM provides ample room for passengers or work crews. The two, four and six-seat models and truck options are designed for individuals, cities, campuses and communities interested in sustainable transportation. All-electric GEM LSVs are street-legal on many low-speed roads and cost $0.03 per mile to operate. GEM vehicles come standard with three-point seatbelts, turn signals and a backup camera, and exceed LSV NHTSA federal safety standards with an Occupant Protection System (OPS) that is roof crush certified.
"As we continue to see growing demand and applications for electric low-speed vehicles in Alabama, the addition of GEM uniquely positions our team to further support local communities and businesses," said Kenny Bishop, President at CraneWorks. "We are super excited about this product and look forward consulting new and existing customers on how GEM can meet their electrification goals and fleet or individual vehicle needs."
Alabama residents can learn about LSVs and experience GEM first-hand at CraneWorks test drive events and demos. Follow CraneWorks on Facebook and Instagram to watch for upcoming event dates. Commercial businesses, municipalities, hotels and resorts and local colleges and universities can contact CraneWorks to schedule a test drive by appointment.
To learn more about GEM electric vehicles, visit www.gemcar.com.
For high-resolution images, please visit bit.ly/WaevIncMediaKit or contact Katie Paulson, katie@kp-publicrelations.com.
About CraneWorks
CraneWorks is a distinguished leader in the heavy equipment rental industry, offering a unique blend of expertise and service through its two primary divisions: CraneWorks and RentalWorks. As a locally owned and operated company, CraneWorks prides itself on providing expertly operated crane services, complemented by a vast and diverse fleet of rental equipment and machinery. In addition to rentals, the company offers a dynamic selection of new and used equipment for sale. Comprising a team of skilled operators, technicians, and sales professionals, CraneWorks is dedicated to delivering exceptional service and top-notch solutions for heavy equipment needs. For more information, visit www.craneworks.com.
About Waev Inc.
Waev Inc. provides access to safe and dependable electric vehicles through the manufacturing, distribution and support of the GEM, Taylor-Dunn and Tiger product lines. Founded in 2021, Waev is redefining EVs to make life and work easier, more efficient and more enjoyable. This is driven by our commitment to sustainable, safe, future-focused solutions that lead to the adoption and advancement of electrification without compromising the job or purpose of the vehicle. Our collaborative and agile partnerships stem from these shared values and common pursuit to advance mobility.
GEM has been an established EV leader in the LSV space for 25 years. Taylor-Dunn has a rich 70-year legacy of providing tailored industrial vehicles. Tiger heavy-duty tow tractors have been towing cargo, baggage, parcel, and other equipment for ground support applications since 1981. All vehicles are engineered and produced at the Waev headquarters and manufacturing center of excellence in Southern California. Visit us at waevinc.com and follow us on LinkedIn.