The $900,000 investment will support the development and installation of internet connectivity in GEM low-speed electric vehicles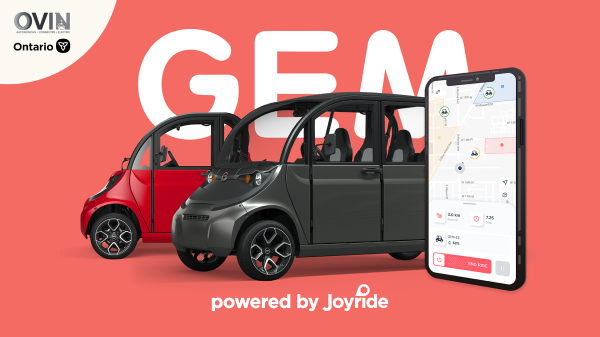 Toronto, Ontario, November 8, 2023 –
Embracing the era of shared-use electric vehicles, Joyride, a global micromobility software platform, is proud to announce its ground-breaking collaboration with the Ontario Vehicle Innovation Network (OVIN). Through this collaboration, Joyride has received over $900,000 in funding from OVIN to support a $1.9 million low-speed vehicle (LSV) project partnership with Waev Inc., a California-based electric mobility provider.
"Through the Ontario Vehicle Innovation Network, our government is helping to develop and deploy innovative technologies and solutions across the automotive and mobility sectors," said Vic Fedeli, Ontario's Minister of Economic Development, Job Creation and Trade. "As Ontario continues to build a robust end-to-end electric vehicle (EV) supply chain, our government is proud to support companies like Joyride in their efforts to bring to market creative, made-in-Ontario solutions that will revolutionize the future of micromobility."
The project marks a significant leap forward in Ontario's urban mobility landscape. OVIN's investment will facilitate the development and installation of telematic Internet of Things (IoT) devices, specifically tailored for Waev Inc.'s GEM low-speed vehicles. By creating shareable, trackable, internet-connected LSVs, the project will accelerate their adoption into new markets and broaden their usage across new environments. When combined with contributions from Joyride Technologies Inc. and Waev Inc., the total project value exceeds $1.9 million.
"The funding from OVIN will allow us to bring best-in-class internet connectivity to a growing and important new form factor," said Vince Cifani, Founder and CEO of Joyride. "With their compact footprint and low-speed travel, LSVs are efficient, sustainable, and fun, while also capable of transforming the urban mobility scene and shared-use applications. Vehicle electrification is a major step in reducing planet-warming greenhouse gas emissions."
"Teaming up with Joyride will make four-wheeled, street-legal GEM LSVs IoT-connected for the first time. Having GEMs networked in this way will make it painless and profitable to start or maintain a shared-use deployment capable of being controlled and managed by mobile devices," said Paul Vitrano, Senior VP & Chief Legal and Policy Officer at Waev Inc.
By leveraging Joyride's software platform and telematics technology along with Waev's vehicle manufacturing expertise, the collaboration will create a dynamic business model that enhances asset utilization and optimizes the return on investment (ROI) for shared mobility fleet operators.
"This new, innovative mobility solution from Joyride represents emerging trends in transportation—a novel combination of electrification and shared mobility, which will make the movement of people and goods faster, safer, and cleaner," said Raed Kadri, Head of the Ontario Vehicle Innovation Network.
Joyride, a leader in the micromobility industry since 2014, powers shared-use e-scooter, e-bike, and moped deployments in over 200 global markets. Their platform simplifies the process for mini- and micromobility operators, enabling them to efficiently and profitably run shared electric vehicle services while providing an enhanced rider experience. Joyride's suite of software solutions includes a branded user application, backend management tracking software, and operational tools for connected fleets.
For over 25 years, GEM vehicles have played a vital role in transporting people and goods, establishing a deep-rooted presence on campuses, in communities, and cities. GEM vehicles, designed to exceed LSV federal safety standards, have a maximum speed of 25 mph, making them street legal on most roads with speed limits of 35 mph or less. Supported by the OVIN R&D Partnership Fund, this project advances Joyride's ongoing mission to provide shared mobility operators with sustainable travel options and enhanced vehicle capabilities.
About Joyride
Joyride is the world's first and fastest micromobility software platform, pioneering innovative shared mobility solutions since 2014. Joyride currently empowers shared mobility operators in 200+ global markets through a tailored consumer-facing app, field operations apps, backend fleet management software, hardware-agnostic IoT integrations, long-term rentals, payment gateways, expert-led online academies, vehicle purchasing/financing, and 24/7 customer support. Joyride is on a mission to bring sustainable, electrified, and innovative tech solutions to all corners of the globe. Learn more at joyride.city and connect with us on LinkedIn.
About Waev Inc.
Waev Inc. provides access to safe and dependable electric vehicles through the manufacturing, distribution and support of the GEM, Taylor-Dunn and Tiger product lines. Founded in 2021, Waev is redefining EVs to make life and work easier, more efficient and more enjoyable. This is driven by our commitment to sustainable, safe, future-focused solutions that lead to the adoption and advancement of electrification without compromising the job or purpose of the vehicle. Our collaborative and agile partnerships stem from these shared values and common pursuit to advance mobility.
GEM has been an established EV leader in the LSV space for 25 years. Taylor-Dunn has a rich 70-year legacy of providing tailored industrial vehicles. Tiger heavy-duty tow tractors have been towing cargo, baggage, parcel, and other equipment for ground support applications since 1981. All vehicles are engineered and produced at the Waev headquarters and manufacturing center of excellence in Southern California. Visit us at waevinc.com and follow us on LinkedIn.
About OVIN
The Ontario Vehicle Innovation Network (OVIN) is an initiative led by the Government of Ontario and facilitated by the Ontario Centre of Innovation (OCI). OVIN aims to reinforce Ontario's position as a North American leader in advanced automotive technology and smart mobility solutions. The initiative supports connected vehicles, autonomous vehicles, and electric and low-carbon vehicle technologies. OVIN provides various resources, including research and development (R&D) support, talent and skills development, technology acceleration, business and technical support, and demonstration grounds to offer a competitive advantage to Ontario-based automotive and mobility technology companies. For more information, visit https://www.ovinhub.ca.
Media Contact:
Wendy Goldman Getzler, VP of Marketing, Joyride
Email: wendy@joyride.city