New interactive map helps plan low-speed vehicle routes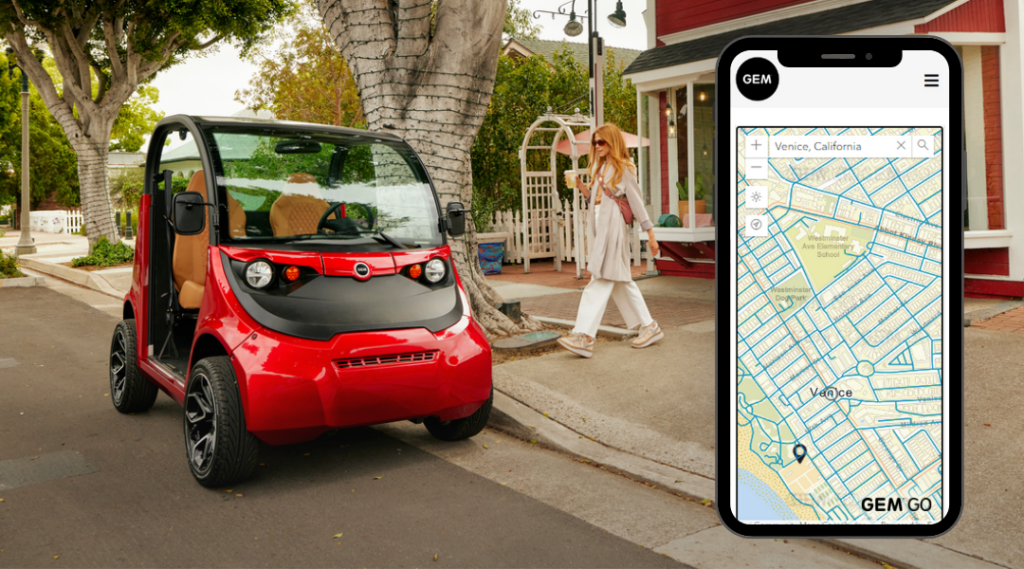 Anaheim, Calif., August 15, 2023 – A new app is providing confidence and accessibility for safe, more sustainable and more enjoyable ways to travel — GEM Go identifies nearby roads with posted speed limits of 35 mph or lower, which are legal for low-speed vehicle (LSV) operation in most communities around the country. GEM Go is a free web-based, mobile-friendly, interactive mapping app at go.GEMcar.com.
More than half of United States roadways are 35 miles per hour or less, and that number is growing constantly as more cities are lowering speed limits to increase safe, healthy and equitable mobility. With GEM Go, users drop a pin or enter an address, and the map will populate with a radius of all roadways 35 mph or less. In cities such as Washington, D.C., with a default speed limit of 20 mph, LSVs can get anywhere in the city and beyond.
"GEM has been leading the charge in LSVs for more than 25 years," said Keith Simon, CEO, Waev Inc. "We created the GEM Go mapping app to help current and future GEM owners understand the breadth of places LSVs can actually operate – it's eye-opening and we expect it will drive even greater adoption of LSVs across the country."
With more than 65,000 GEM electric vehicles (EVs) sold, fleet operators and consumers have been leveraging GEM for decades as a safe, sustainable, and cost-efficient solution. GEM vehicles often replace full-size cars, trucks, vans and non-street legal golf carts for applications ranging from neighborhood errands to urban shuttles and delivery to utility work. GEM Go makes it simple and clear to identify where an LSV can be driven.
Simon adds, "Although we have an extensive installed base with GEM, it represents a very small fraction of what LSVs can become in the market when you keep breaking down the barriers like the lack of understanding of where GEM vehicles can be driven. With our recent launch of the all new MY24 GEM and now GEM Go we are on the leading edge of driving the LSV category forward."
Find GEM Go at go.GEMcar.com, and visit GEMcar.com to learn more. In partnership with Esri, and their ArcGIS Platform solution, our maps are updated quarterly with new data to help ensure the latest accuracy.
Editor Note: For high-resolution images, please visit bit.ly/WaevIncMediaKit or contact Katie Paulson, katie@kp-publicrelations.com.
About GEM Electric Vehicles
With a maximum speed of 25 mph, GEM LSVs are street-legal, four-wheel, electric motor vehicles that can be driven on most U.S. roads posted 35 mph or less. GEMs are engineered to exceed LSV federal safety standards, are designed for style and comfort, and are 100 percent emissions free. With two, four and six-seat models and an electric truck option, GEMs provide ample room for passengers or work crews and equipment, and are outfitted with safety features such as seatbelts, a rear-view mirror and turn signals.
About Waev Inc.
Waev Inc. provides access to safe and dependable electric vehicles through the manufacturing, distribution and support of the GEM, Taylor-Dunn and Tiger product lines. Founded in 2021, Waev is redefining EVs to make life and work easier, more efficient and more enjoyable. This is driven by our commitment to sustainable, safe, future-focused solutions that lead to the adoption and advancement of electrification without compromising the job or purpose of the vehicle. Our collaborative and agile partnerships stem from these shared values and common pursuit to advance mobility.
GEM has been an established EV leader in the LSV space for 25 years. Taylor-Dunn has a rich 70-year legacy of providing tailored industrial vehicles. Tiger heavy-duty tow tractors have been towing cargo, baggage, parcel, and other equipment for ground support applications since 1981. All vehicles are engineered and produced at the Waev headquarters and manufacturing center of excellence in Southern California. Visit us at waevinc.com and follow us on LinkedIn.