New conversion kit gives legacy gas tow tractors new, sustainable life with lithium-ion power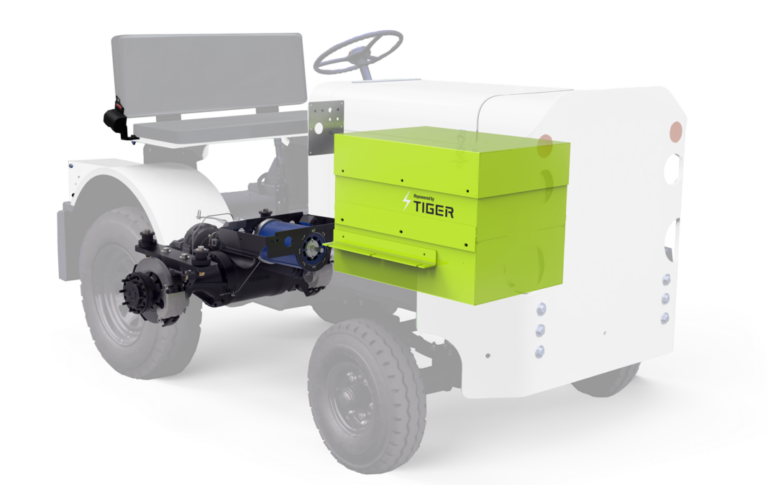 Anaheim, Calif., Sept. 12, 2023 – With an industry goal of net-zero emissions by 2050, airports worldwide are working toward a sustainable future – and electrifying ground support equipment (GSE) can make an immediate impact. Today, Tiger is reducing the financial burden of electrification with a first-of-its-kind conversion kit – making it fast, easy and cost-efficient to upcycle current tractors. Tiger Repower converts internal combustion engine (ICE) tow tractors to lithium-ion (Li-ion) power, offering ground support operations a modern, clean and green way to bring new life to existing fleets. The latest in electrification technology, Li-ion helps operations save thousands, cut carbon emissions and improve safety.
"Tiger Repower allows operators to achieve zero emissions in a single day. Maximizing existing tractor investments with an easy-to-install conversion kit is something that airports, governments and ground support operations alike can stand behind," said Keith Simon, CEO, Waev Inc. "With Tiger Repower, we're eliminating the reasons to not go electric by offering the benefits of Li-ion technology without a burdensome investment."
One Step Closer to Net Zero
Compared to a single internal combustion tractor emitting an average of 3,250 kilograms of CO2 annually, an electric tow tractor emits zero CO2 – helping reduce an airport's overall pollution output and contribute to the aviation industry's sustainability goals. Tiger Repower removes barriers for electrification adoption by providing a Li-ion upgrade that costs up to 50 percent less than purchasing a new tractor. Ongoing savings are further realized through zero powertrain maintenance and no fuel costs.
Easy Install
A Tiger Repower conversion kit is easy to install and can be completed in the shop or on the tarmac. Once the ICE powertrain is removed, the total installation takes 8-12 hours with two people – electrifying the tow tractor with Li-ion power in just one day.
Smart Vehicle Technology
Tiger Repower enables smart vehicle technology not realized with gas vehicles. A new anti-rollover feature enhances safety by limiting the vehicle's speed while turning. Brake interlock forces the operator to be at a complete stop and the brake fully depressed before shifting to forward or reverse. Onboard diagnostics help rapidly call attention to an issue so it can be addressed, further increasing productivity and safety for crews.
Flexible Charging
Li-ion-powered tow tractors minimize the need for infrastructure changes with an onboard charger compatible with traditional single-phase outlets and offboard charging compatibility with multiple DC fast chargers. Flexible charging means Tiger Repower tow tractors can adapt to a wide range of infrastructure readiness—without requiring heavy investment in new charging infrastructure. Tiger Repower can also be opportunity charged anytime for further flexibility.
Included in the Tiger Repower Kit
Power module with optional onboard charger
Rear axle and drive shaft
Motor
Dashboard with keyless power switch
LED headlights and tail lights
Master cylinder
Parking brake system
Brake switch
Accelerator pedal
Seatbelts
Full tractor wiring harness
The Tiger Repower conversion kit is compatible with the most popular styles of tow tractors, with additional tractor mounting available upon request.
Ground Support Vehicles from Waev
Tiger Repower is part of Waev's comprehensive portfolio of EV solutions that are available to convert gas tractors, trucks, vans, sedans and UTVs to electric. The portfolio includes Tiger tow tractors and the new Tiger Repower kit as well as Taylor-Dunn Bigfoot utility trucks and GEM low-speed trucks and passenger vehicles. All of which will be on display and available for demos at the International GSE Expo in Las Vegas September 26-28 in Waev booth #2742.
Three new GSE-specific configurations of the Taylor-Dunn Bigfoot utility trucks will also make their debut alongside the new Tiger Repower kit. The Bigfoot hotshot with baggage cart, Bigfoot lavatory service truck and Bigfoot potable water truck provide even more options for ground support operations to easily go electric.
All Waev offerings are available for order now. To learn more about Tiger Repower or see the full line of Tiger Tow Tractors, Bigfoot utility trucks and GEM EVs, visit www.tigergse.com, www.taylor-dunn.com and www.gemcar.com.
Editor Note: For high-resolution images, please visit bit.ly/WaevIncMediaKit or contact Katie Paulson, katie@kp-publicrelations.com.
About Waev Inc.
Waev Inc. provides access to safe and dependable electric vehicles through the manufacturing, distribution and support of the GEM, Taylor-Dunn and Tiger product lines. Founded in 2021, Waev is redefining EVs to make life and work easier, more efficient and more enjoyable. This is driven by our commitment to sustainable, safe, future-focused solutions that lead to the adoption and advancement of electrification without compromising the job or purpose of the vehicle. Our collaborative and agile partnerships stem from these shared values and common pursuit to advance mobility.
Tiger heavy-duty tow tractors have been towing cargo, baggage, parcel, and other equipment for ground support applications since 1981. GEM has been an established EV leader in the LSV space for 25 years. Taylor-Dunn has a rich 70-year legacy of providing tailored industrial vehicles. All vehicles are engineered and produced at the Waev headquarters and manufacturing center of excellence in Southern California. Visit us at waevinc.com and follow us on LinkedIn.